Hurricane Harvey has cause a an massive state of emergency with wide spread damage and flooding that is wide spread  in and around the Houston area.
Interactive Map with areas where flooding is in Harris County and Houston area.
City of Houston and County Officials Urge People to Donate to Hurricane Relief Fund ghcf.org/hurricane-relief
City of Houston and County Emergency Phone Numbers in a life-threating situation,
Call 911

If you can't get through to 911 on first try, keep calling.

Local County Emergency Operation Center
When you call please provide:
Name
Number of people trapped
Number of pets
The City and County have activated a joint donations management program with various non-profit agencies to manage requests.  A phone line has been established by the Houston Food Bank to handle questions about donations.Residents, organizations,companies and groups may call: (800) 924-5985
GoFundMe has also set up a web page for Hurricane Harvey relief efforts.
Facebook & Google
Google has set up a website for donations
Network for Good and will then be distributed to the American Red Cross, with Google covering all processing fees.
Catholic Charities USA, the domestic relief agency of the U.S. Catholic Church, is accepting donations online and by phone. Text CCUSADISASTER to 71777 to make a donation.
The Salvation Army & more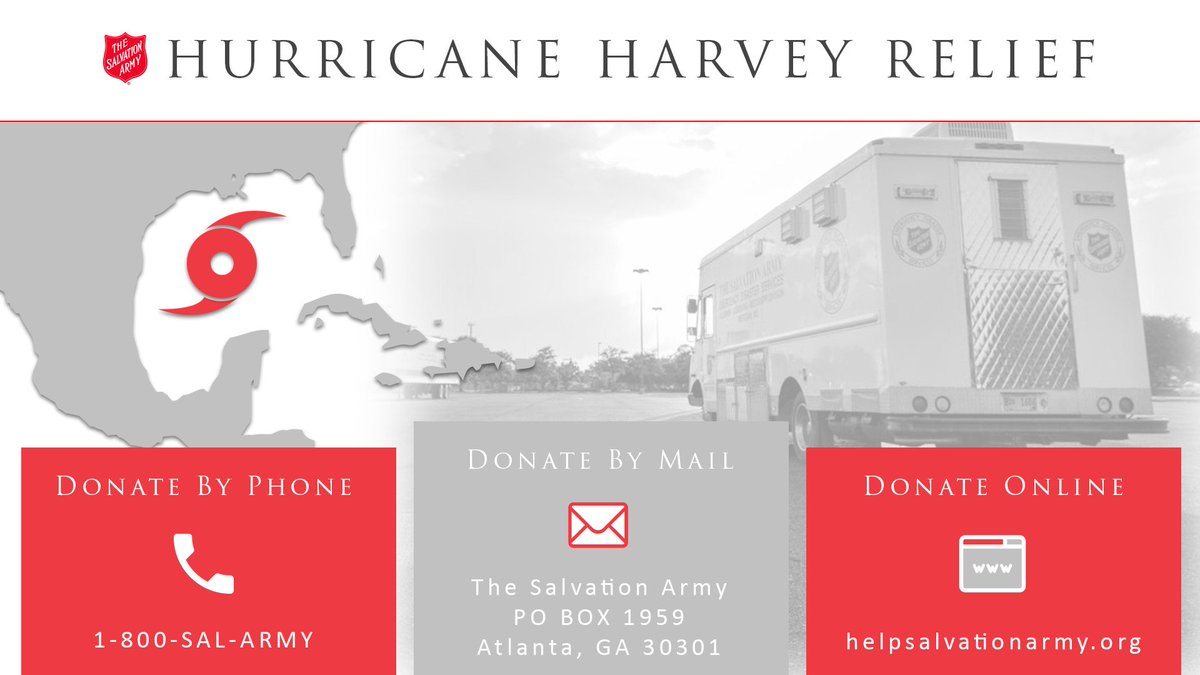 Texas Food Banks Mobilize for Hurricane Harvey Relief
Feeding Texas is proud to serve alongside state and federal relief efforts when disasters strike Texas. Below is a primer on our response to Hurricane Harvey, as well as important information for donors and impacted communities.
How are food banks preparing for Hurricane Harvey?
Coastal food banks will respond in the immediate aftermath of Harvey by providing donation coordination, direct distribution to the affected public, and distribution through partner agencies. These food banks are currently staging their inventory and allocating manpower to accommodate the likely surge in need following the storm. Inland food banks are preparing to assist local Red Cross shelters with food and other items needed by refugees.
How can I get help for myself or my community?
Call 2-1-1 or your local food bank immediately following the disaster to learn about public food distributions and open agencies.
Once a federal disaster area is declared, Texas will also have the option to activate "D-SNAP," a federally-funded program that provides food relief through EBT debit cards. If you are a community leader in an affected area, please petition the Texas Health & Human Services Commission at (877) 787-8999 to activate this important program.
How can I pitch in?
Contact the closest food bank listed below to find out how you can effectively volunteer or donate following the disaster. Consider donating money instead of food, as this can be done from the safety of your home and will avoid the complications of sorting and distributing varied food items.
If you wish to give food, our food banks will be seeking ready-to-eat staples like pop-top meat / fish, powdered milk, cereal, canned fruit, fruit cups, peanut butter and jelly. Cleaning supplies such as bleach and paper towels will also be accepted. In addition to donating at food bank facilities, local grocers may provide collection points for dona
The South Texas Blood & Tissue Center (STBTC) sent out 350 units of blood on Tuesday in the first large wave of shipments to the hurricane-ravaged Texas Coastal Bend.
Blood drives from Corpus Christi to Houston have been canceled and donation rooms closed following widespread damage and flooding caused by Hurricane Harvey.
As a result, STBTC and blood centers across the country are sending units of red blood cells and platelets to the region.
In South Texas, donors have responded to appeals since the hurricane made landfall on Saturday, making more than 1,600 donations. Monday alone, there were more than 700, almost 400 more than on a typical Monday.
As part of the efforts to support patients, STBTC has extended hours at its donor rooms in San Antonio and New Braunfels, Texas, staying open from 7 a.m. to 7 p.m. for blood donations through Sunday, Sept. 3. Donors can schedule appointments at SouthTexasBlood.org/Harvey or by calling 210-731-5590.
The donor room in Victoria, Texas, which was directly in the path of Hurricane Harvey, re-opened on Tuesday. Several staff members came to work Monday despite extensive damage to their own homes.
The demand for blood and blood products is higher than normal in San Antonio, as more than 700 patients have been evacuated from Coastal Bend hospitals to facilities in San Antonio.
the storm.
Help for animals
Several organizations are helping pets displaced by the disaster.
Donations to The Humane Society of the United States help the group work with local officials to transport, rescue and care for animals.
Register as Safe with the Red Cross
The American Red Cross is accepting donations by phone and online. Donors may text HARVEY to 90999 to make a $10 donation, or call 1-800-RED-CROSS.
You can connect with National Voluntary Organizations In Active Disaster.